In MakeShift, Company Administrators can manage Time Off Settings, which are global to the entire company.
To management time of settings in MakeShift, please follow these steps:
The Time Off options are:
All Day Time Off Requests Only (this is enabled for every company by default)
Partial Day Time Off Requests Only
All-Day and Partial-Day Requests
Select the Settings tab located in the top navigation bar.

Select Company Settings on the left-hand side.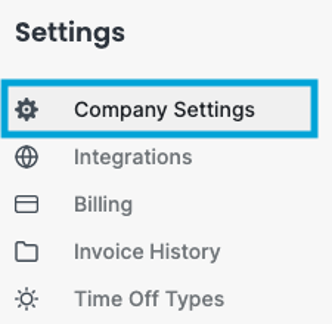 Select an option, If Partial Time Off is enabled, employees can request hourly time off, as opposed to a full day off. This is useful for employees that only need a few hours off but still want to be scheduled. If both Partial Day and All Day Time Off Requests are enabled, employees will have the option to set a range of full days off or just specific hours of a day.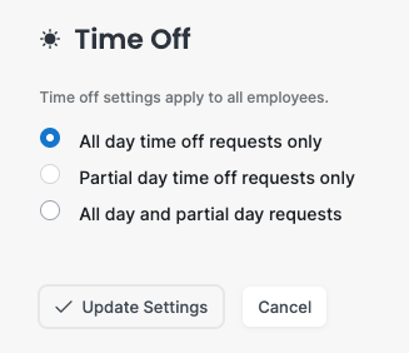 Click Update Settings. Your selected Time Off options will now be available to all employees. Employees can request time off from the employee smartphone app or my.makeshift.ca. Please also see our article How to Add Time Off Types.
---
At this time, the following article is for beta users only. To learn more about our beta program, please email support@makeshift.ca