To add an existing employee to a department in MakeShift, follow these steps:
Click on Schedules on the top navigation bar.

Click on a department name to view that department's schedule and click Employees, in the tab on the left-hand side.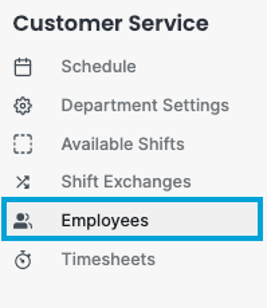 Select the Other Employees tab.

You will now see a list of all employees that are not currently assigned to the department you are working in. To add employees to your department select the green Add button.

You will now see this new employee added to your schedule. Now that you know how to add an existing employee to Makeshift, it is time to learn how to Archive an Employee, in case a team member quits or is terminated.
---
At this time, the above article is for beta users only. To learn more about our beta program, please email support@makeshift.ca