This article will show you how to change the day of the week that all schedules will start on. Each department schedule in a location will all start on the same day.
To Change the Day the Weeks Starts, Please Follow these Steps:
To access this feature, begin by clicking Locations on the top navigation bar. If you have not previously created a location, please read our article on Creating Locations.

Select the Location from the list that you would like to edit.

week start
Click Location Settings on the left-hand side.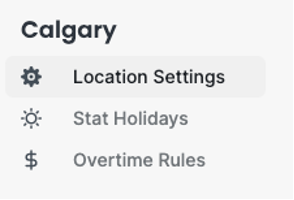 Change the day of the week by using the drop-down menu.

After selecting the appropriate day, click Continue on the modal to confirm the change.

To save this to the location profile click Update Location.

---
At this time, the above article is for beta users only. To learn more about our beta program, please email support@makeshift.ca